Have you recruited the new Tier 2 Crusaders? Well, take the weekend to try them out, superpowered!
The following Crusaders will get a buff this weekend starting from today until 12 pm PDT on Monday May 29th.
Danni the Daring Damsel - Penny in Your Pocket ability +200%
Natalie Dragon - All DPS +200%
Jason, Master of Shadows - All Gold Find +200%
Sarah, the Collector - Base DPS +400%
Polly the Parrot - Tough Nut to Crack ability +200%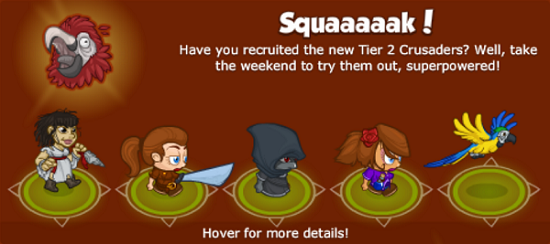 Also, check out the limited-time Squaaaak Jeweled Chests that contain equipment for the five Crusaders above!
(
Please note:
The chest will only contain gear for Danni and Polly if you've unlocked them. If you are missing Danni, you can purchase Danni's Golden Epic, and it will be available on her once you unlock her through missions.)