It's considered lucky to possess and examine a map on Wintershield, so put on your most durable boots and head out into the streets of Waterdeep to claim one for yourself in this new limited time event.
Complete the adventure and you'll recruit the stout gold dwarf cleric, Barrowin Undurr, who has some unique buffing mechanics and shares a seat with Tyril. This event will run until January 8th, 2018 at noon PST. Good luck!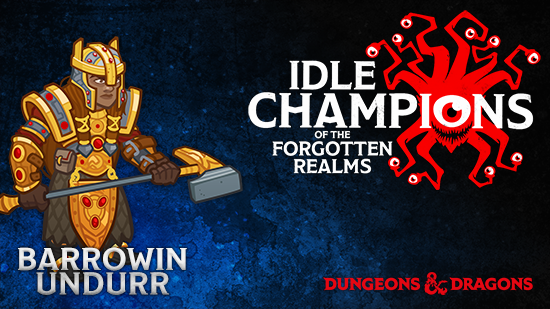 New Champion: Barrowin Undurr
A proud daughter of Clan Undurr and a devout follower of Gorm Gulthyn, the dwarven god of vigilance and duty. She spent fifteen years in the city of Ironmaster, in Icewind Dale, overseeing and protecting her family's investment in the city's lucrative mining operations. However, she saw little action and feared that her talents were being squandered. She has recently found a home within a budding organization called the Order of the Gauntlet, which vigilantly guards against the rise of evil in all its forms.
When you want to add Barrowin Undurr to your party, you can swap her with Tyril.

Wintershield Variants
The Chatty Map — The map is extremely chatty. Every 15 seconds it engages in deep conversation with a random Champion in your formation, disabling their DPS and Formation Abilities for 15 seconds.


The Cult of Daggers — Dagger-throwing Cultists spawn alongside normal waves and toss daggers at random Champions in your formation. These additional monsters drop no gold.


Only the Strong Survive — Only Champions with a Strength stat of 13 or higher can be used. This includes base Champions Bruenor, Celeste, Nayeli, Minsc, Tyril, Jamilah, and Arkhan, and event Champions Gromma, Krond, and Barrowin Undurr.

Features:
Added the Wintershield event, our fifth limited-time campaign event! The event will run until Monday, January 8th at noon PST.
Added a new Champion: Barrowin Undurr, the Gold Dwarf Cleric.
Added a new event Divine Favor: Oghma's Favor.
See the in-game FAQ for more information!