During
Feast of the Moon
, residents of the Sword Coast pay homage to the deeds of legendary heroes by visiting their crypts and graves.
When the Champions arrive at
The Crypt of Legends
, they find hordes of undead crawling up from the depths. Something is making the dead heroes rise, and the answer will require a descent into the depths to discover the cause...
Feast of the Moon 5 introduces
Widdle
, the Dhampir Gnome Wizard, played by
Meagan Kenreck
who you can see as Widdle on
Idle Champions Presents the Trials of Mount Tiamat
, airing Mondays at 4PM Pacific on the
CNEGames Twitch
. You can also catch her as Widdle on Heroes of the Planes Tuesdays at 6PM Pacific on the
Demiplane Twitch
.
This event also brings back
Penelope "Half-Pint"
, Circle of the Moon Druid and Warlock from
Heroes of the Planes
, and brings back
Sentry
, the Warforged Paladin (Oath of the Ancients) from
High Rollers: Aerois
. Players have until Monday, November 22nd at 12PM Pacific to complete your Feast of the Moon 5 unlocks and objectives.
New Champion: Widdle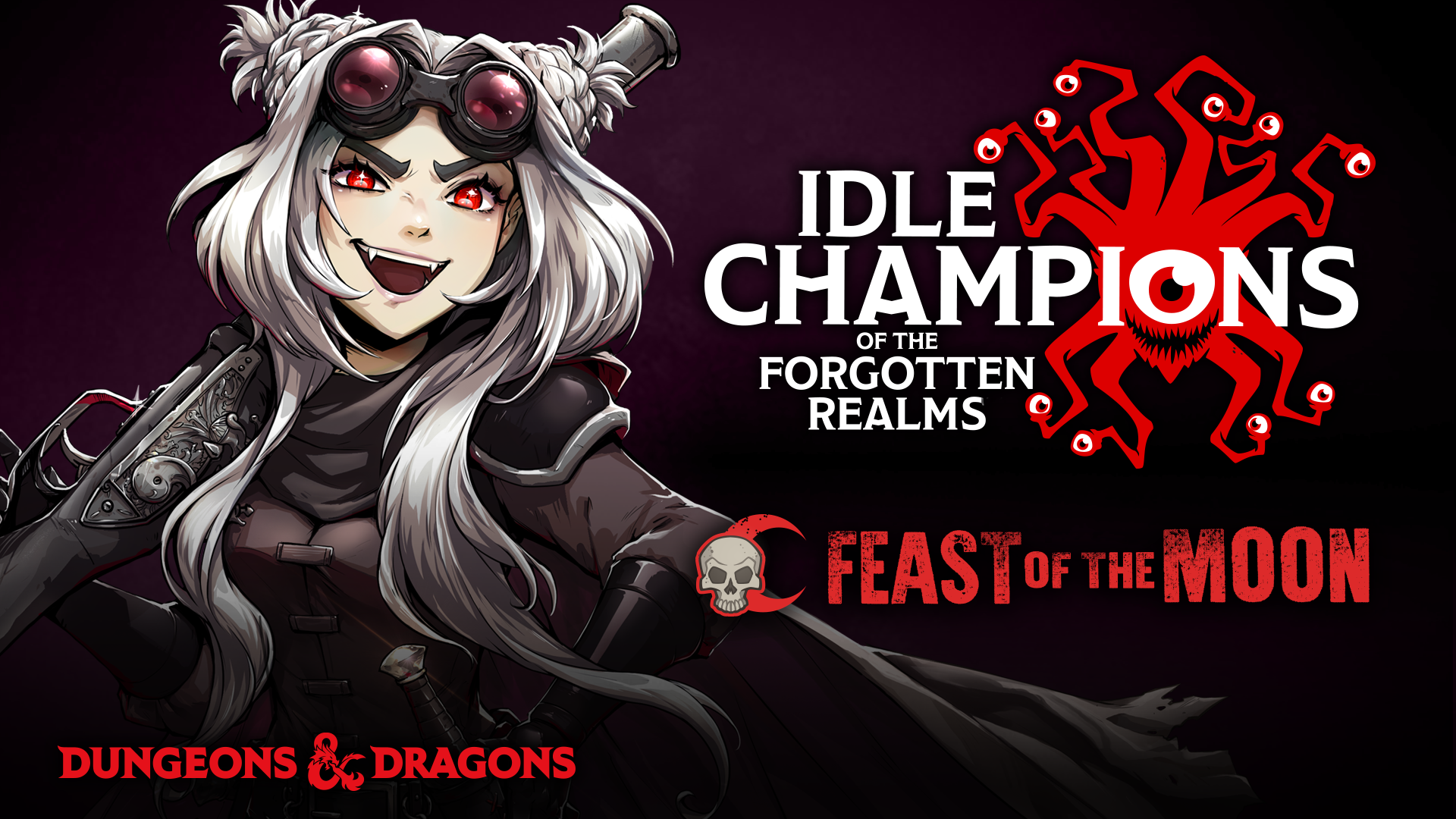 Widdle's life goal is the destruction of Strahd, but with 423 years of gnomish wisdom, she realized she still needed more time. Becoming a dhampir seemed like the best option, and now she uses her enhanced speed and fearsome fangs to help her friends and show that being a dhampir does not make you a monster. With a big personality and an even bigger blunderbuss, she's ready to deal with any challenge!
Widdle is a Support, Healing and Speed Champion who's vampiric charms can buff the damage of her allies while encouraging them to attack faster. But all this battle can make a dhampir hungry, and those she buffs look extra tasty to oncoming enemies, making them spawn faster. When you want to add Widdle to your formation you can swap her with Celeste (Slot 2).
II. Widdle's Stats
| | |
| --- | --- |
| Race: Dhampir Gnome | Alignment: Chaotic Neutral |
| Class: Wizard | Gender: Female |
| Age: 423 | Affiliation: Heroes of the Planes |
| | | |
| --- | --- | --- |
| STR: 18 | DEX: 15 | CON: 13 |
| INT: 17 | WIS: 12 | CHA: 11 |
Role:
Healing, Support, Speed
Eligible for Patrons:
Strahd
Slot
: 2, (Celeste)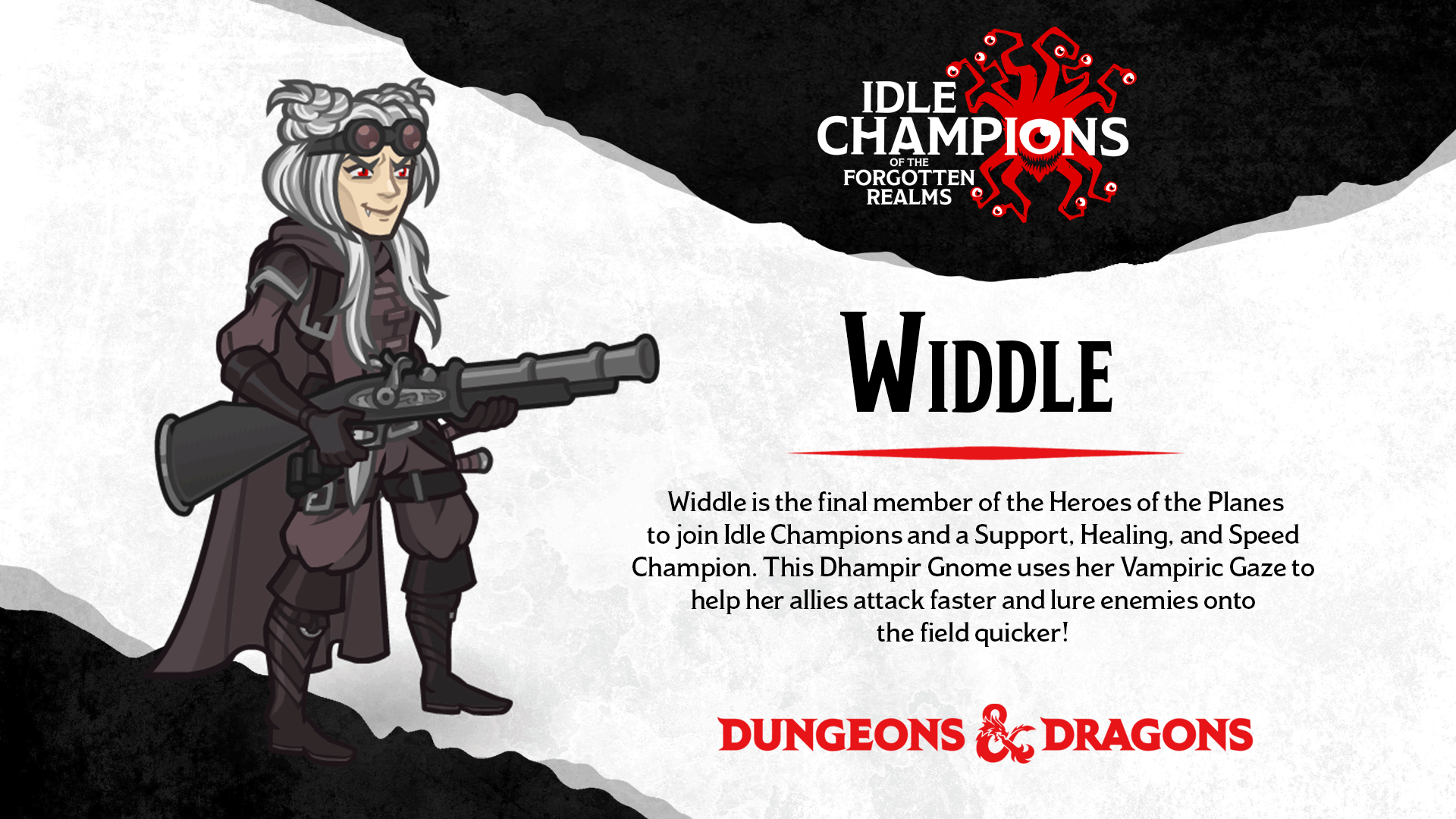 III. Widdle's Design
We've been adding the Heroes of the Planes to our Champion roster for quite a while, and it's a wonderful joy to have
Meagan Kenreck
honor us by bringing the final member to the party! Meagan is a Twitch streamer, graphic designer, photoshop enthusiast, and advocate for inclusivity. She's also known as Sofieus on Silver and Steel, the co-host of "Todd and Meagan talk D&D", and also plays as Widdle in "The Adventures of Widdle and Rend", a D&D one on one show with her Husband, Todd, who plays as Rend.
Widdle always seems to be grinning as she leads the charge into adventure or battle. She focuses on increasing the damage and speed of her friends, boosting adjacent Champion damage with
Vampiric Gaze
while reducing their base attack cooldowns by encouraging them to
Hurry Up Now
. Her Specializations boost her damage buff based on specific ability scores, and her
Vampiric Bite
Ultimate attack not only does enormous damage to a random enemy, but heals herself and her friends.
For more information on Widdle and her abilities, check out her
Champion Spotlight
!
Year Five Variants

Variant 1: Dhampiric Nature — Widdle begins in the formation. She can't be moved or removed. Undead Enemies deal 200% additional damage and move 200% faster. Gold Find is reduced by 99%.
Getting to know Widdle: Widdle charms her adjacent allies with her Vampiric Gaze, increasing their damage. However, as a Speed Champion, she also increases enemy spawn speed with each adjacent ally! Fill in your formation quickly, Widdle's at the wheel!
Complete Area 75.


Variant 2: Strahd's Test — Widdle may have a vendetta against Strahd, but she's also eligible for his Patron variants. As such, the dark lord has set up a test for our latest Champion. At each boss level, an additional undead boss appears:


Area 5: Lich
Area 10: Zombie Adventurer
Area 15: Powerful Will-o' Wisp
Area 20: Zombie Kobold King
Area 25: Armored Ranged Skeleton
Area 30: Weakened Vampire
Area 35: Revenant
Area 40: Mummy
Area 45: Bone Naga
Area 50: Strahd on Horseback

Complete Area 125.


Variant 3: A Widdle of This, A Widdle of That — Widdle begins in the formation. She can't be moved or removed. The Base attack cooldown of all Champions is increased by 5 seconds. This increase does not affect Heroes of the Planes Champions. A Giant Rat accompanies the formation, intent on becoming friends with Widdle's pet rat Gerard. Widdle said not to hurt it.
Getting to know Widdle: Widdle's Hurry Up Now ability grants a chance for adjacent allies to have their base attack cooldown reset after attacking. Level her up quickly to gain access to this necessary skill for this variant.
Complete Area 175.


IV. New DLC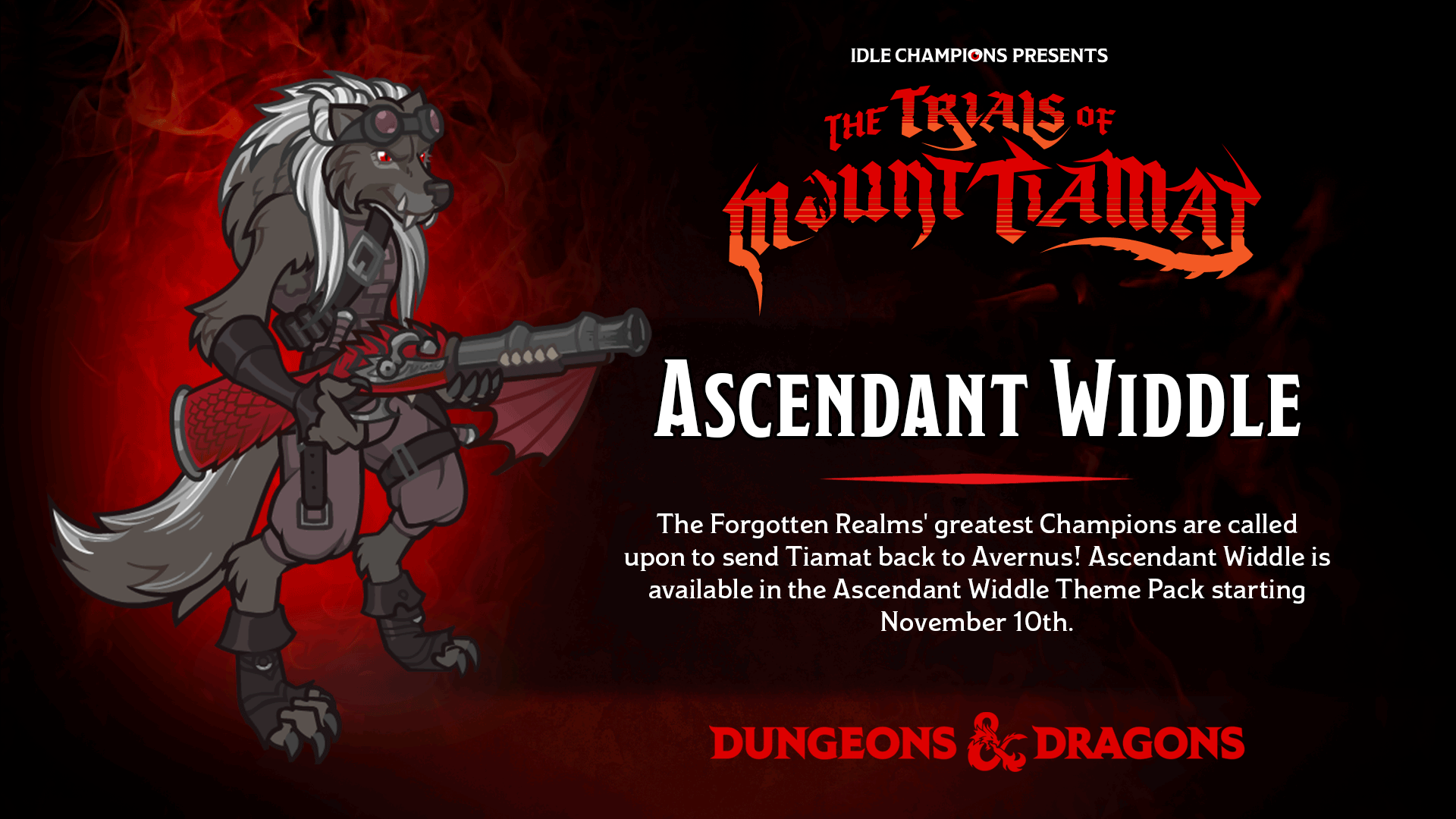 Also launching with Widdle is the Ascendant Widdle Theme Pack! This pack includes an unlock for Widdle, the new Ascendant Widdle Skin, the
Rat #59 AKA Gerard
familiar, Widdle's Epic
First into the Fray
Feat, which increases
Tasty Friends
by 80%, 1 Epic Potion of the Gold Hunter, and 16 Gold Widdle Chests with 2 Guaranteed Shiny Equipment Cards.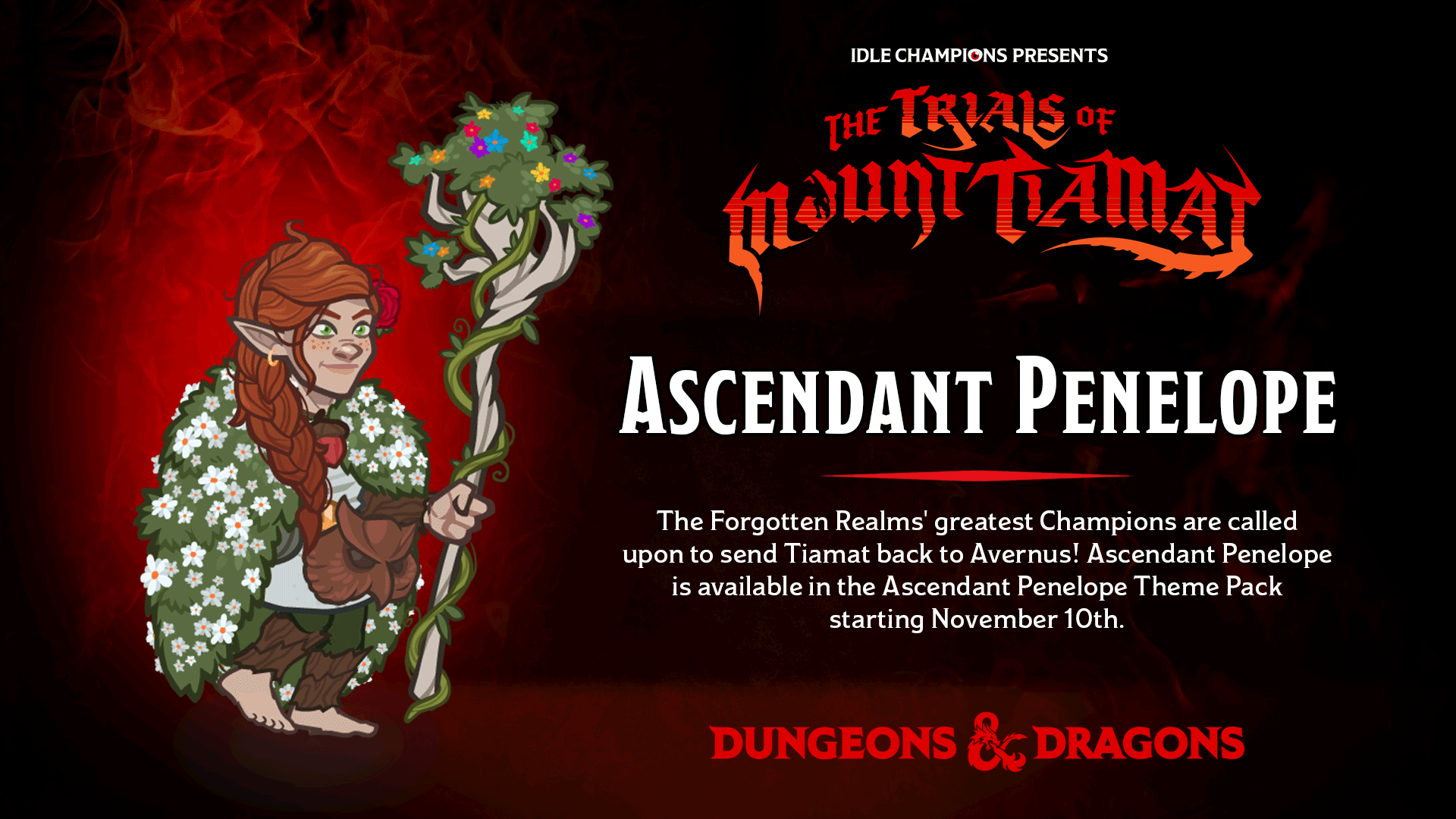 Also launching with Feast of the Moon 5 is the Ascendant Penelope Skin & Feat Pack! This pack includes an unlock for Penelope, the new Ascendant Penelope Skin, Penelope's Epic
Friendly Tales
Feat, which increases
Have You Met My Friends
by 80%, and 7 Gold Penelope Chests with 1 Guaranteed Shiny Equipment Card.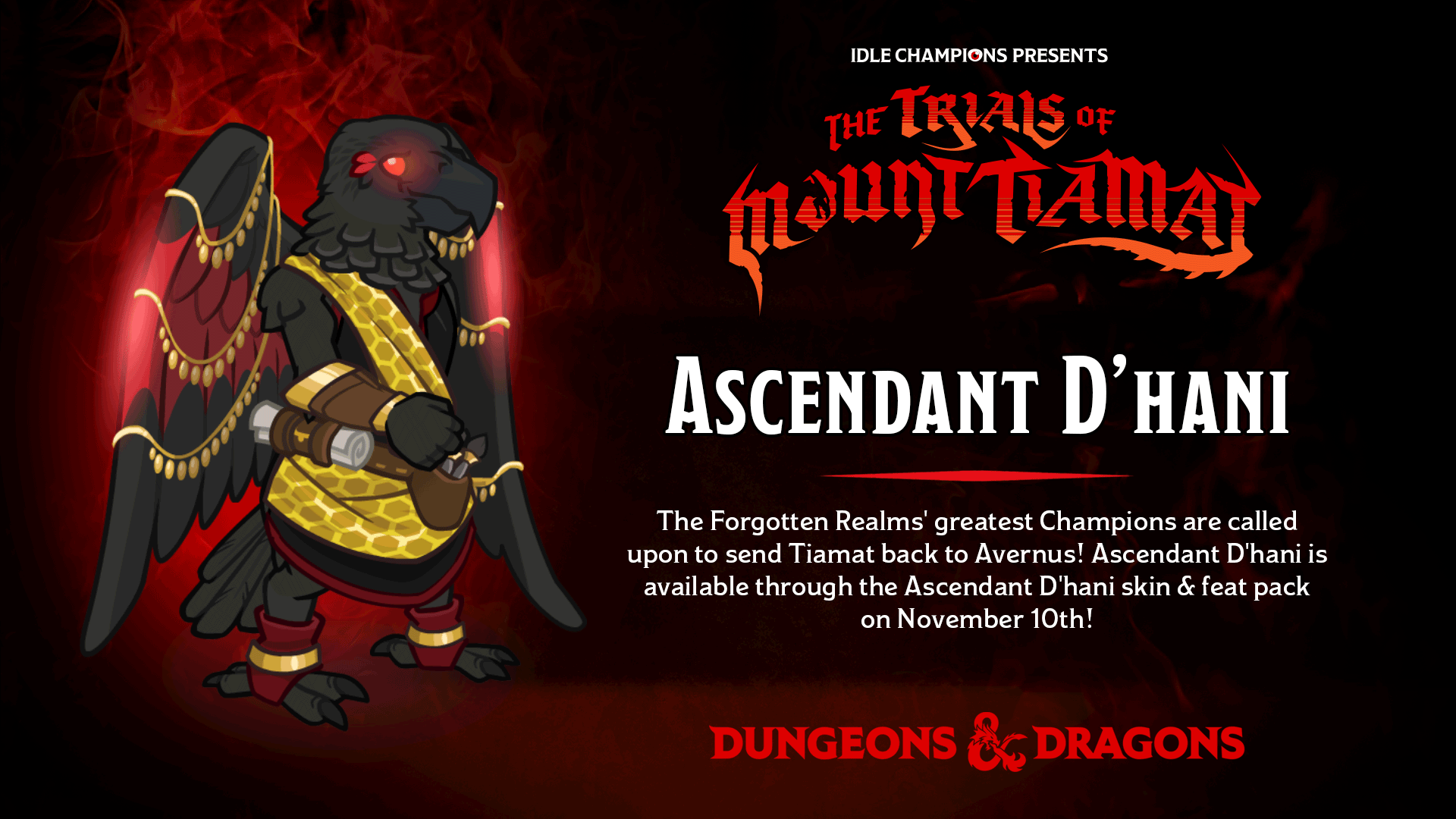 Last but not least, launching as well with Feast of the Moon 5 is the Ascendant D'hani Skin & Feat Pack! This pack includes an unlock for D'hani, the new Ascendant D'hani Skin, Dhani's
Chromatic Foe
Epic Feat, which increases
Paint Them Red
by 80%, and 7 Gold D'hani Chests with 1 Guaranteed Shiny Equipment Card.
For information on previous years' variants, check out the
Feast of the Moon 4 blog
. And if you have feedback, let us know in a Community Q&A or Champion feedback post on the
Idle Champions Subreddit
, on the
Steam forums
, or on the
Official Idle Champions Discord
!