It's Deadwinter Day in Longsaddle. While most folks are warm in their homes exchanging gifts and celebrating the midpoint of winter with friends and family, your party has been tasked by the infamous Harpells with patrolling the outskirts of town to protect against ne'er-do-wells.
Not wanting you to get bored, the Harpells have helpfully summoned a magical trickster to keep your day fun and interesting. Unfortunately it looks like they might have messed up and summoned a much more powerful foe than intended, so now you've got a real Midwinter problem on your hands...
Midwinter is the sixth limited-time event for Idle Champions, which runs from today until 12:00pm PST on Monday, February 5th, 2018, and introduces Regis, the Halfling Rogue!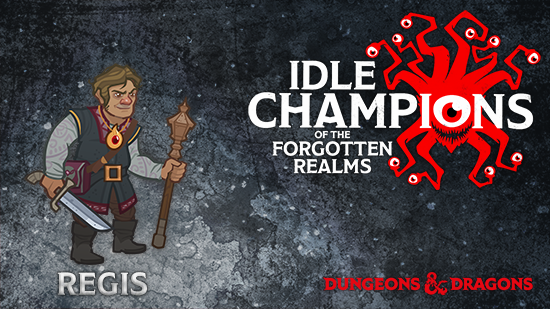 New Champion: Regis
As a poor urchin on the streets of Calimport, Regis quickly learned that survival often requires bending the rules in your favor. He fled to the north to avoid capture after stealing his former master's magical ruby pendant. Eventually, he found companionship amongst the
Companions of the Hall
, becoming one of Bruenor Battlehammer's most trusted confidants. Bruenor was the one who gifted Regis with the nickname "Rumblebelly" due to the halfling's insatiable appetite.
Regis would prefer nothing more than to relax in the sun with a full belly near his home in Ten-Towns and fish for knucklead trout, the source of all of his scrimshaw carvings. But when his friends need help, Regis is always there for them. He never sees himself as the hero, even though his true friends know better.
When you want to add Regis to your party, you can swap him with Celeste.

Midwinter Variants
Deadwinter Date — You've been tasked with escorting two young Harpell wards on a date during your adventure. They take up slots and are otherwise pretty useless.


Deadwinter Fey — A large number of sprites and pixies spawn with each wave of enemies (not during boss areas). These extra monsters do not drop gold, and when killed they sprinkle a random Champion with pixie dust. Any champion that is sprinkled with 10 Pixie dust has their DPS and Formation Abilities disabled. Pixie dust stacks reset when you change areas.


Deadwinter Pay (-back) — Every time you defeat an enemy (in a non-boss area) your Champions take 10% unavoidable damage. Champions adjacent to Regis take one third of that damage while Regis himself is immune.

Features:
Added the Midwinter event, our sixth limited-time campaign event! The event will run until Monday, February 5th at noon PST.
Added a new Champion: Regis, the Halfling Rogue.
Added a new event Divine Favor: Auril's Favor.
See the in-game FAQ for more information!