Detective Kaine's mother is at it again in Kaine's Dinner of Doom 2016. Her amazing Thanksgiving recipes are just too tempting, and things have gone awry again.
Kaine's brilliant scientist mother decided to apply her vast scientific knowledge to her culinary skills but didn't stop to think if she should!
Now the Kaine mansion is awash with various foodstuffs intent on making the Crusaders choke on them. Or more to the point, choke the Crusaders to death.
You can read about the two Crusaders, Momma Kaine and Roboturkey and the original two companion objectives
here
.
If you've already beaten last year's event, we're also introducing two new Crusaders and three new, harder objectives this year. These are available once you've completed the Tier 1 objectives and unlocked the Tier 2 talent.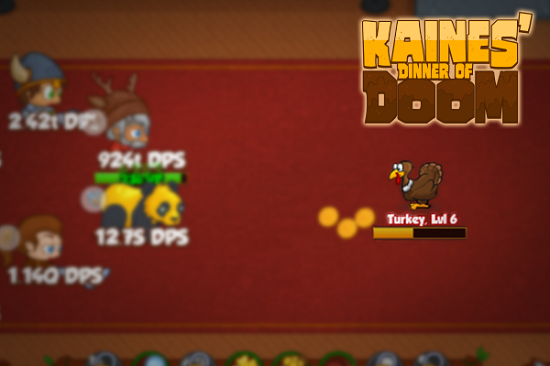 New Objective: Attack of the Turkeys
There's a new Tier 1 objective, Attack of the Turkeys, to beat first. The feathered fiends have had enough of Thanksgiving, and different types of turkeys attack your formation. Don't let the fact they all look the same fool you, they'll be pulling out all the dirty tricks to avoid ending up on the dinner table.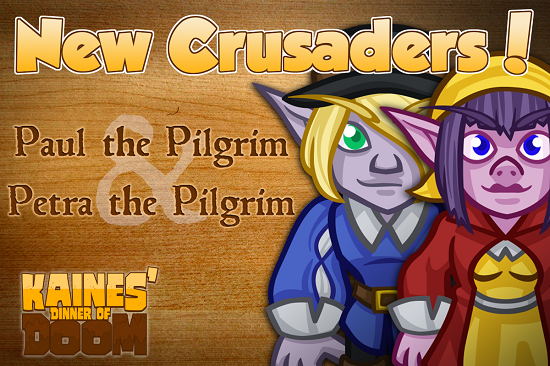 New Crusaders: Paul and Petra Pilgrim.
The first of the two Crusaders is Paul the Pilgrim. He's an elf (because the Pilgrims were elves, okay) who shares a lot with Jason, Master of Shadows. You're going to have escort him all the way to area 300 while he wipes out your Gold Find by 100%. However, for every monster you kill, the debuff will shrink by 1%.
Petra the Pilgrim is also an elf who also came over on the Mayflower and shares a slot with Merci. Again, you're going to have to beat area 300 while she hampers your monster killing by redirecting your DPS to the furthest monster.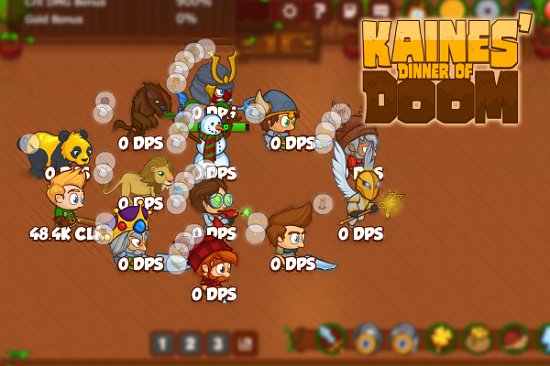 New Objective: Feast or Famine.
The remaining three new objectives starts with Feast or Famine where your Gold Find and DPS oscillate between zero and buffed all the way to area 400.
The Blood Harvest objective reduces your DPS to zero (there's a theme here!) in every non-boss area while Blood Glob monsters swarm you to area 450, apparently anxious to get to Thanksgiving dinner. Killing a Blood Glob causes one of your Crusaders to recover their DPS again.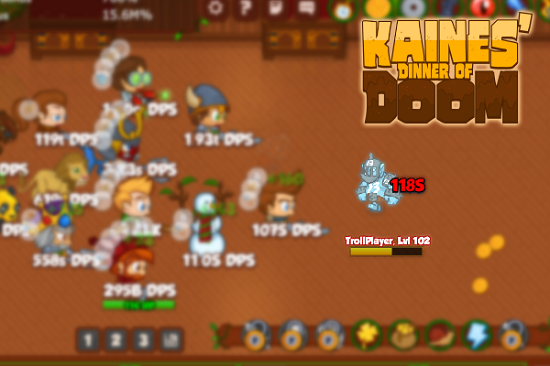 New Objective: Doubleheader.
The final new Tier 2 objective is Doubleheader. Football players assail your Crusaders with random types of attack. You'll just have to wait and see. Beat area 500 and put the ole pigskin in the end zone. Score.
Can you stop the killer food before it's too late? Or will the enhanced tryptophan slow you down?
You have until Tuesday November 29th at Noon PST to control the madness!