Today we launch an ambitious update to Crusaders of the Lost Idols that adds an even deeper layer of strategy - and it's completely free.
Now you can:
Unlock event Crusaders you may have missed!
Win missing gear for event Crusaders!
Earn enchantment points, jeweled chests, additional buffs and more!
How do I do all that, we hear your cry. Well, if you can spare the Crusaders from your formation, you can send them off on side missions for awesome rewards! However, there's a trade-off which will make you think carefully about your decisions.

How Do They Work?
You can find the Missions in the Daily Quests tab. Each mission will have specific requirements for you to meet if you want to ensure success. For instance, a mission might require you to send a male Crusader and a female Crusader, or a buffer and a DPS, or require having a certain amount of enchantment points or specific gear pieces on a Crusader to increase your chance of success. The more requirements you can fulfill, the more likely you are to succeed.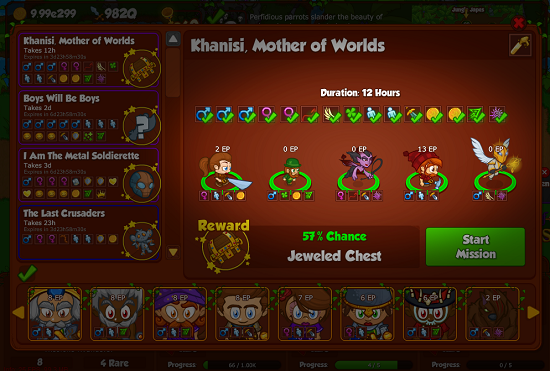 Each mission has specific Crusader requirements. Match the requirements to increase the chance of successfully completing them.
You'll have to make tough decisions managing your Crusader roster to beat the missions while still being able to complete the main campaigns and events. Not only is there a chance your mission might fail, but dangerous missions have a chance to incapacitate one of your returning Crusaders for a period of time, making them ineligible for regular objectives!
Missions range from reasonably short to epic voyages. Short missions include 10-minute forays for fun while other missions could take days to complete.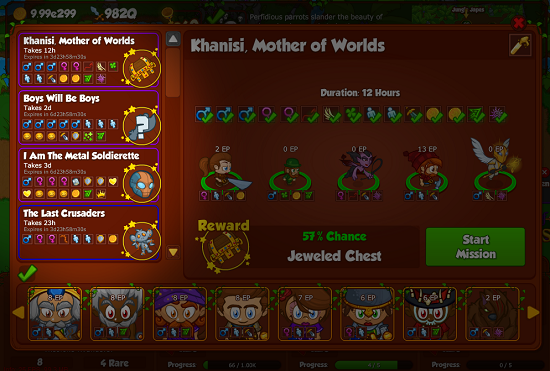 Missions can keep your Crusaders busy for a few minutes all the way up to days at a time.
The rewards on offer are worth it though. Some missions enable you to finally unlock past event Crusaders you have missed out on previously. Other missions will enable you to earn missing gear for your favourite event Crusader along with various other missions that award Enchantment Points, quick bounties of Gold, normal Jeweled chests, and temporary buffs that activate right away.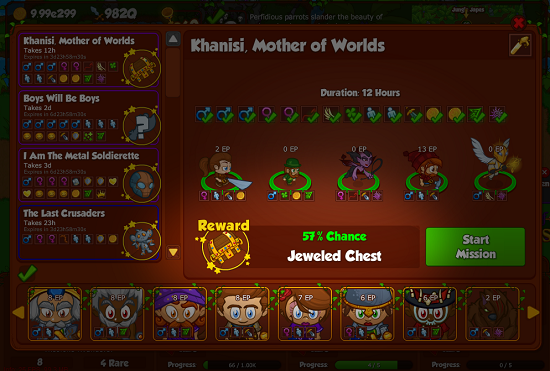 Rewards for successfully completing a mission include unlocking past Event Crusaders, their gear, jeweled chests, Enchantment Points and buffs.
To celebrate this giant new feature we've awarded a weekend buff to 5 Crusaders and there's an exclusive new jeweled chest available until Monday May 30 at Noon PDT! Don't miss out!
Check out the new Missions in-game now!