The City of Sails, Luskan, needs your help! While celebrating their annual Summer Solstice festivities, the Luskans have somehow drawn the ire of a powerful Bronze Dragon and their kin. It's up to you to save them...
Dragondown 2 introduces Korth, a ruthless Lizardfolk Samurai, and brings back Binwin Bronzebottom, legendary Dwarven Fighter and Barbarian. Players will have until Monday, June 24th, 2019 at 12:00pm PDT, to unlock them!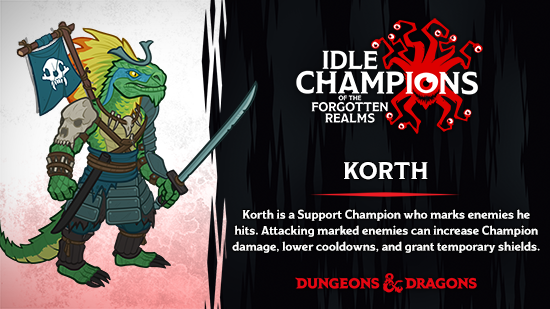 New Champion: Korth
Raised as a gladiator in the pit arenas of Kara-Tur, Korth has since traveled the world studying fighting styles and the art of war. Korth is infamous for his skill and efficiency in battle – and for his ruthlessness, as he never spares the lives of his opponents. Those who cross Korth's path do so at their own risk.
Korth is a Support Champion who marks enemies he hits. Attacking marked enemies can increase Champion damage, lower cooldowns, and grant temporary shields. When you want to add Korth to your formation, you can swap him with Celeste (Slot 2).
For more information about our latest Champion, check out the
Idle Champion Spotlight: Korth
dev blog!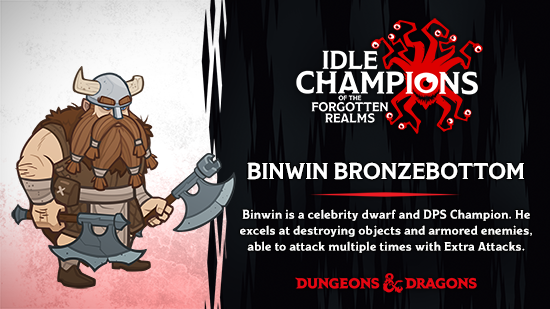 Returning Champion: Binwin Bronzebottom
Binwin Bronzebottom was a member of a rather infamous adventuring group/company, until he left to spend more time with his family. A grumpy and headstrong dwarf with a penchant for springing traps rather than disarming them, if he's not the first into battle then he's disappointed. There's nary a door, tankard, or acid pit that hasn't felt the wrath of Binwin Bronzebottom at one time or another. These days, when he's not adventuring with the likes of Drizzt and Minsc, Binwin leads a small group of incompetent and eminently replaceable minions through perilous adventures.
Binwin is a celebrity dwarf and DPS Champion, played by
Scott Kurtz
on
Acquisitions Incorporated
and now the leader of
Binwin's Minions
. He excels at destroying objects and armored enemies, able to attack multiple times through his
Extra Attacks
ability. When you want to add Binwin to your party, you can swap him with Nayeli (Slot 3).

Year Two Variants
It's All Going To Be O.K. — Only Champions with an 'o' or 'k' in their name may be used.


Korth's Kobold Kleanup Krew — Korth begins the Adventure in your formation with his Lizardfolk Tactics upgrade unlocked. Armored kobolds attack the formation. These kobolds are invulnerable until marked by Korth.


Durable Dragon — When the Dragon boss in area 50 is defeated, she immediately resurrects with additional armor hits (+20%), attack speed (+25%) and damage (+33%). She gains additional resurrection (and stacking bonuses) for every 50 areas completed (resurrects once in area 50, twice in area 100, three times in area 150, etc.).

Year One Variants
Awaken the Beasts — Beasts move much more quickly and deal far more damage.


Binwin's Minions — Two of Binwin's Minions take up slots in the formation, decreasing the damage of adjacent Champions by 90% with the exception of Binwin, whom they buff by 400%. Binwin's Minions move to different slots in the formation every 20 areas.


Untrusting — The bronze dragon doesn't trust you to return her egg, so she continuously sends her Wyrmlings to keep an eye on you. Four different varieties of Wyrmling spawn at random.
See the in-game FAQ for more information!