Seeking rest and respite from a year of adventure, the Champions arrive in the tranquil town of Longsaddle - only to find it under siege! Drow from the Underdark are on the hunt in Longsaddle for a Harpell artifact, and it's a race against time to find it before they do...
Brightswords 5
introduces
Dob
the upbeat, half-orc bard from
The Oxventure crew
, and brings back his teammate
Corazón de Ballena
, the dashing Human Pirate, and
Lazaapz
, the Goblin Armorer Artificer. Players have until Monday, September 5th at 12PM PDT to complete their event unlocks and objectives.
I. New Champion: Dob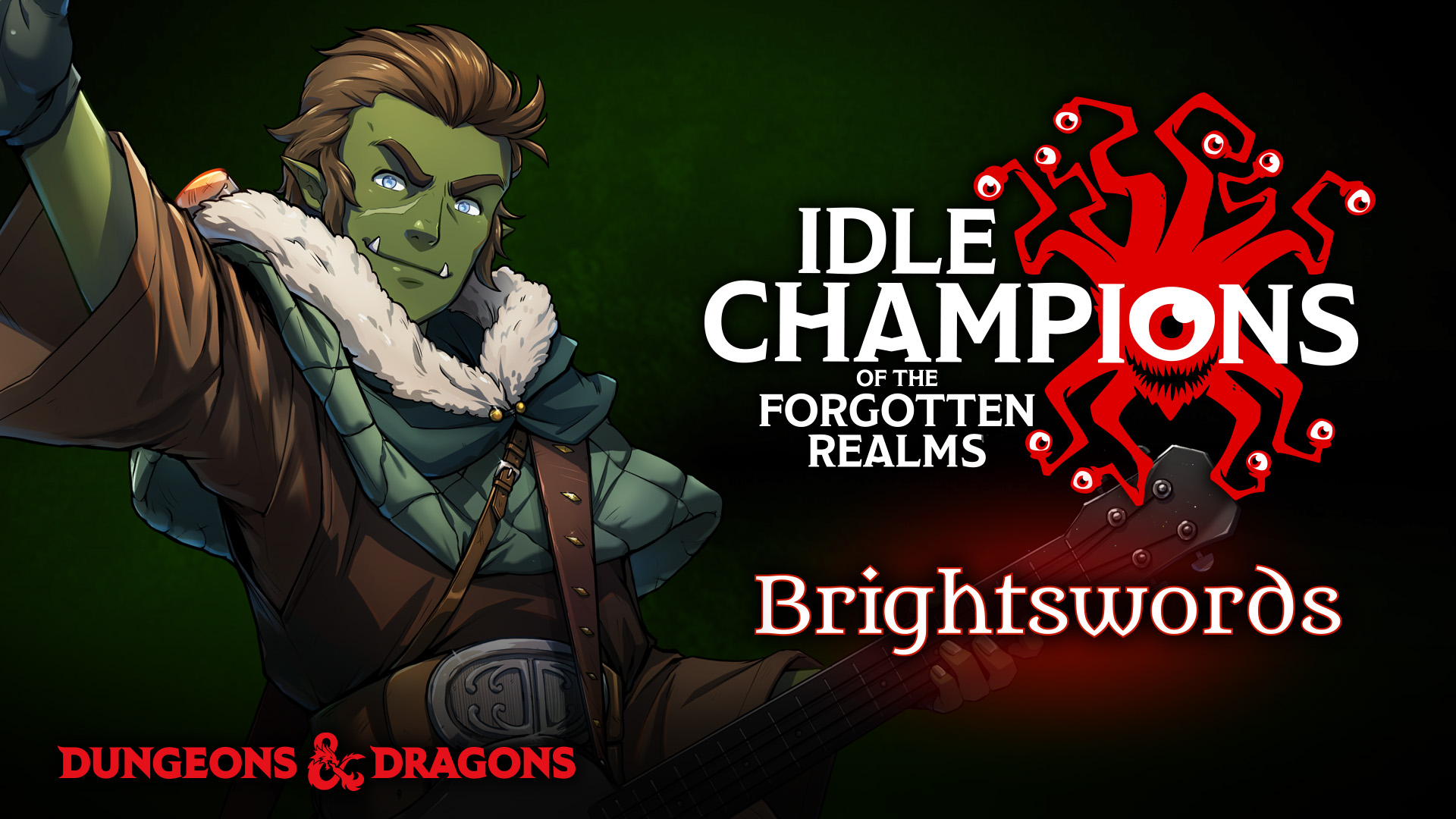 Dob never knew his parents. When he fell ill as a baby, his sister Suzette searched far and wide for a cure. She successfully saved his life, but on the last of her trips out to find medicine, Suzette never returned. So Dob became a self-taught traveling bard, sleeping under the stars and roaming town to town in search of his lost sister. This brought him into contact with the Oxventurers, with whom he shares in many bizarre adventures, including one that did indeed see him reuniting at last with his long-lost sister!
Dob is a Support and Gold Find Champion, increasing the damage of Champions not next to him while boosting gold find based on how many Champions are adjacent. He has the unfortunate habit of dumping all that hard-found gold into a nearby lake to keep it safe, but he'll make sure to make it up to the formation! For more information on Dob and his abilities, check out his
Champion Spotlight
!

Year Five Variants
Half-Orc's Charm - Dob starts in the formation, and can't be moved or removed. Champions next to Dob deal no damage.

Complete Area 75.


Making Friends - Dob starts in the formation, and can be moved but not removed. Only Champions with a Charisma and/or Dexterity of 17+ may be used.

Reach Area 125.


Skeletons! (on Strike) - Dob starts in the formation, and ce can be moved, but not removed. His Ultimate starts unlocked and its cooldown duration is half as long. Each wave spawns a relentless Striking Skeleton, who is slow, but deal 400% damage. In addition, if they are defeated, they respawn in the same location after 5 seconds.

Reach Area 175.
See the in-game FAQ for more information!