Welcome back to our latest Champion Spotlight design blog! Today, we're going to go into detail on our newest Champion: Ishi Snaggletooth - Kobold Fighter, who will be available in our latest event: Ahghairon's Day- launching on August 15th! I hope this blog will give you all you need to know about our latest Champion.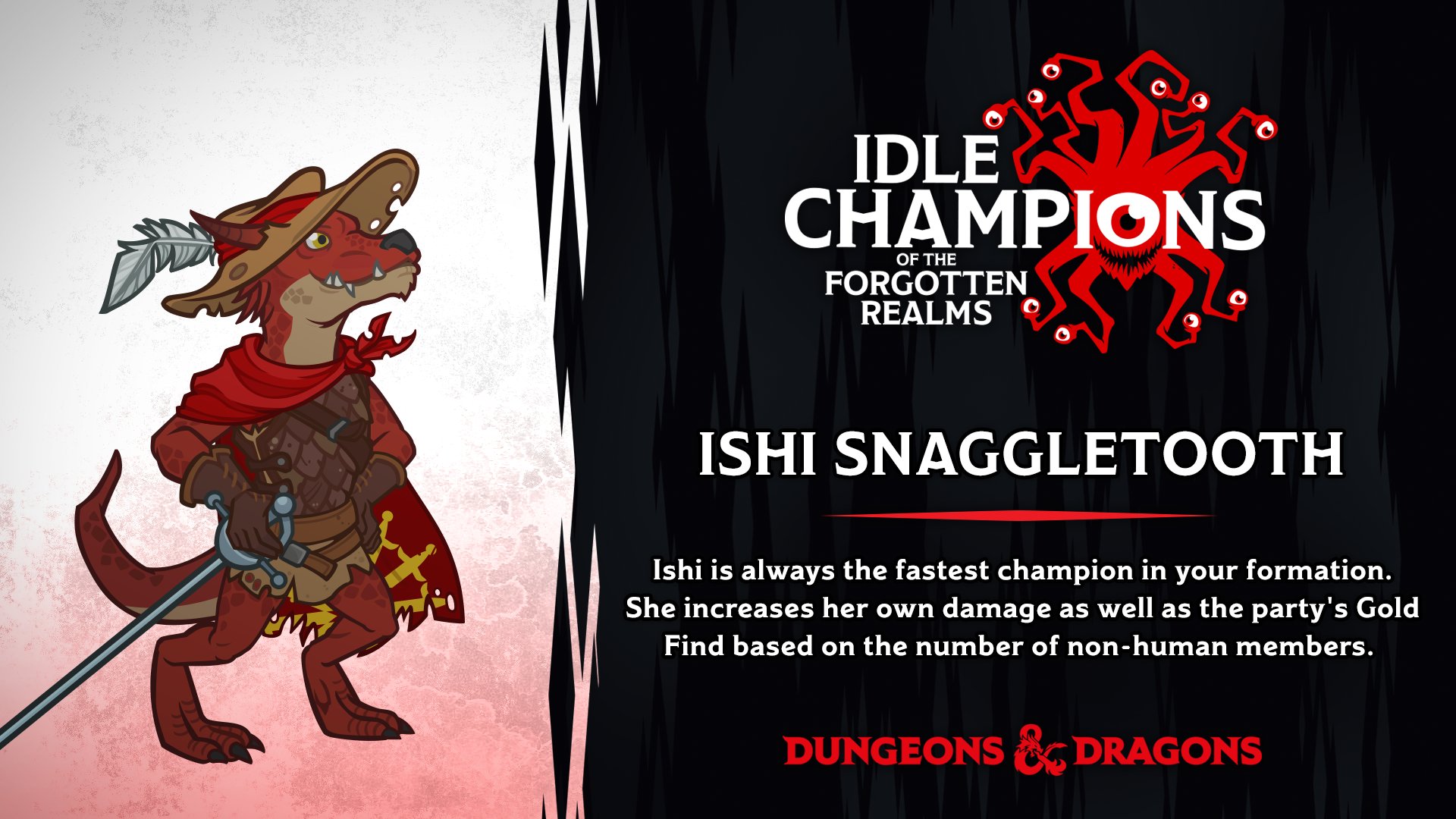 How you can unlock Ishi:
Ishi is unlocked by playing Ahghairon's Day, a limited-time event launching on August 15th and running until August 27th. Once you unlock Ishi, she swaps with Jarlaxle or Stoki.
Who is Ishi:
In addition to being an adorable pile of Kobold fanciness, Ishi is a character played in the weekly
Roll 20
livestream on the
D&D Twitch channel
. Ishi is an overconfident loudmouth. She's out to prove herself, and she doesn't know when to shut her mouth. I don't know about you, but I can definitely relate on that point! Since she began her adventuring career, she's often been looked down upon as "just a kobold". However, she's taken that frustration and channeled it into championing the fact that monsters can be adventurers too! Thanks to a few lucky encounters, and her ability to exaggerate her skills, she's known as a deadly duelist most noted for defeating the great Hershel Von Saberberg in a duel to the death. The remnants of his cape now adorn her small stature as a reminder to those that she passes: Ishi is not to be messed with.
You can go along on the continuing adventures of Ishi & co. every Friday at 1PM PST. She is roleplayed by Violet Miller, AKA
DistractedElf
.
Ishi's Design:
From our initial discussions with Violet, we keyed into the idea of "monsters are people too", as it is core to who Ishi is. She's a fighter who focuses on DPS and increasing your gold find.
Ishi is always out to prove herself, and that is reflected in her
Quick Strike
basic attack. Quick Strike states:
Ishi attacks the front-most enemy a quarter second faster than anyone else
. That means if you're fastest champion is attacking every 4 seconds, Ishi attacks every 3.75 seconds. If you then add a champion that attacks every 3.5 seconds, Ishi steps it up and attacks every 3.25 seconds!
The first ability you'll unlock with Ishi is her
Monsters are People Too!
ability. With it, she increases her damage by 25% for each non-human champion in the formation. It's an additive bonus, so if you can get her surrounded by 6 non-humans, she's got a 150% increase in her damage, just for hanging with her peeps!
From there, you can unlock the first of her specialization choices, which focus on increasing your gold find.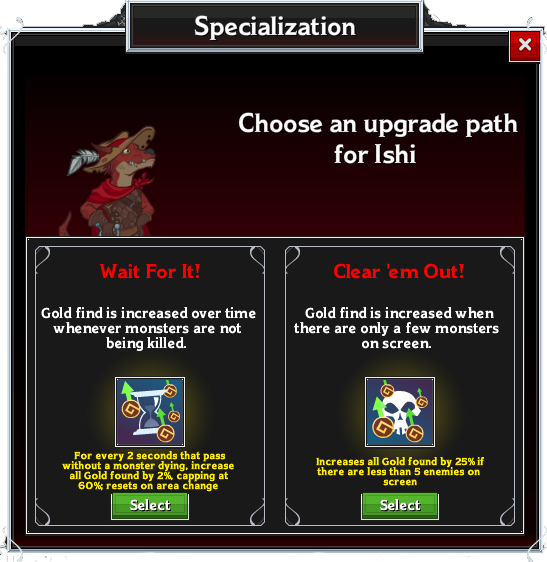 If you want to use her in the early game, when you're cleaving through enemies quickly, choose
Clear 'em Out!
If you want to have her boost your gold find when you're close to your wall and fighting against a bunch of baddies, choose
Wait for It!
Her next ability is
Let's Find Some Treasure
, which increases all gold found by 10% for every non-human champion adjacent to Ishi. Are you sensing a pattern here?
From there, you reach her second specialization choice, which is all about choosing her friends.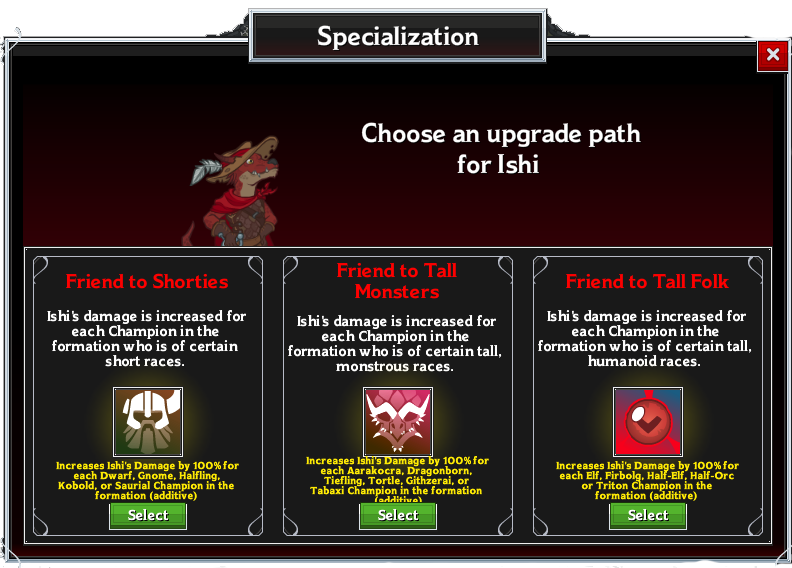 You can choose her friends from 3 groups:
Shorties: Both monsters and "standard" adventuring races that share a similar aversion to being the tallest in the room.
Tall Monsters: The name says it all. Monstrous races who tower over Ishi.
Tall Folk: These are tall folk that Ishi doesn't consider monsters, but at least they're not humans!
Whichever route you go, Ishi's damage is raised by 100% for each of those races in the formation!
Ishi's Ultimate Attack:
Ishi's ultimate is called
Confidence Boost
. It's all about her strutting her stuff in front of her friends. For each non-human in the formation, Ishi's damage is increased by 100% for 15 seconds. Pair that with friends who attack quickly, and Ishi can easily bounce around the screen, laying waste to your enemies!
Ishi's Equipment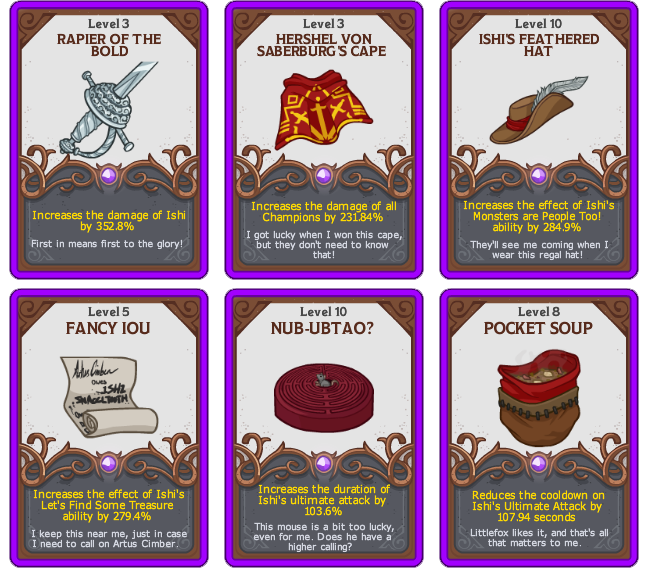 Slot 1: Rapier
Ishi's Rapier increases her damage.
Slot 2: Cape
Ishi's cape inspires those around her, increasing their damage (even if they're human).
Slot 3: Hat
Ishi's amazingly fancy hat increases the effect of Monsters are People Too! increasing Ishi's damage for every non-human adjacent to her.
Slot 4: IOU
Ishi once ran into the famed Artus Cimber, and carries an IOU from him to be redeemed at a later date. This equipment card increases the effect of Let's Find Some Treasure, increasing your party's gold find for every non-human adjacent to Ishi.
Slot 5: Nub Ub the mouse
Ishi's pet mouse, Nub Ub helps to inspire her to continue onward when using her Confidence Boost Ultimate Attack.
Slot 6: Pocket Soup
I've heard it's a delicacy, but the pocket lint turned me off from trying it. Pocket Soup decreases the cooldown of Ishi's Ultimate Attack, allowing her to use Confidence Boost more often!
TL;DR- Final Ishi Thoughts
We're super excited to introduce Ishi into the game. Hopefully she'll inspire you to think of new formations, casting those pesky humans aside. We'll be watching the discussion online and on discord to see how well she's received, so let us know what you think on
Facebook
,
Twitter
, or on the
official Discord
!