The majestic city of Modern York is under attack from a host of super villains who want to subjugate the populace to their evil ways. The villains are in the process of recruiting all of the criminals, crooks, thieves and truant school kids to create an army to defeat your Crusaders.
For this new event called 'Superhero Spring,' you're going to need some superhero back-up. Shine that signal into the sky from an oversized search light and use your mobile phone to contact the other hero (because it's easier).
New Crusaders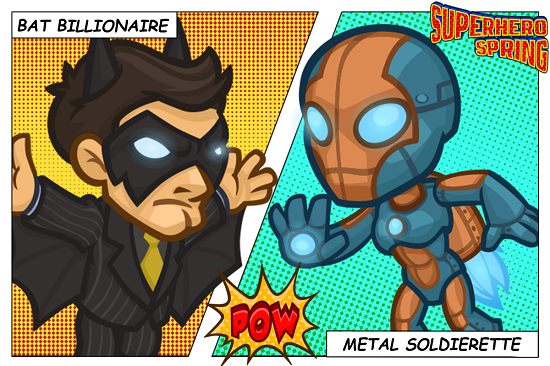 Bat Billionaire is the mega-rich industrialist and notorious playboy who had a rather traumatic encounter with a rubber bat at Halloween. The life-changing event saw him adopt an alter ego as a mask-wearing vigilante who stalks cocktail parties and well-lit inner urban locations around Modern York to fight crime.
Metal Soldierette is a genius, billionaire, playgirl, philanthropist whose penchant for technology is matched only by her desire to use it to bash evil-doers.
Both new Crusader Superheroes can be recruited to your crime-fighting team by completing the first two objectives the Superhero Spring event.
Once in your party Bat Billionaire has some special abilities on his designer utility belt. For one thing, when you buy his level 75 update, all adjacent Crusaders get a temporary 50% DPS boost every time you use an active ability.
Another unique skill kicks in at level 150 when he unlocks the upgrade Deep Menacing Voice where-after all Crusaders affected by Alchemy take 50% less damage for it's duration.
Metal Soldierette is your new option for a tank. When unlocked at level 25, her DPS increases by 400% when she's placed at the front of the formation. At level 75 she gains the ability to self heal herself for absurd amounts, but she will eventually get overwhelmed without help from your other Crusaders.
New Objective: Bat Parking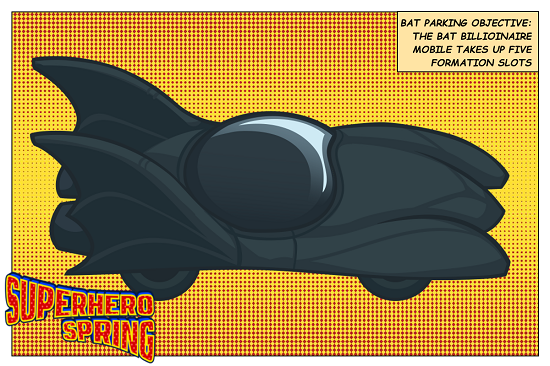 There are three bonus objectives, as usual.
Two-Faced
affects the DPS of the Crusaders depending on which side of the formation they find themselves. Those on the right-hand side have their DPS increased while the left-hand side Crusaders have their DPS debuffed. These buffs swap around every few areas all the way to area 150.
Bat-Parking
proves that the rich and famous are probably the biggest culprits when it comes to inconsiderate parking. The Bat Billionaire Mobile takes up five formation slots, leaving the remaining Crusaders to pick-up the slack to reach area 200.
New Objective: Stolen Hardware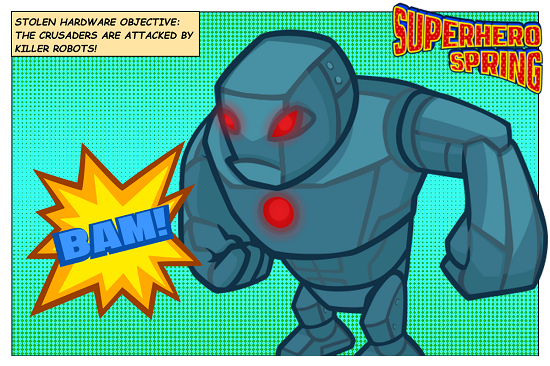 Finally, the
Stolen Hardware
objective sees the Crusaders attacked by super-hard robots that bear an uncanny likeness to Metal Soldierrette. The party must blast their way to area 250.
Time to assemble, unite, transform and slip your underpants over your leotard, by the Hoary Hosts of Hoggoth!