Our Champions have arrived in the quaint town of Longsaddle amidst the Brightswords festivities, hoping for some much-needed rest after a full year of touring Chult and the Sword Coast. However, they arrive to find Longsaddle under siege!
An army of Drow have come to the surface from the Underdark seeking a long-lost artifact, and it's a race against time for the Champions to discover it first...
Brightswords is our seventeenth limited-time event for Idle Champions of the Forgotten Realms, and the final event of Year One. This event runs until Monday, September 24th at 12:00pm Pacific, and introduces Wulfgar, Human Barbarian and the final member of the Companions of the Hall!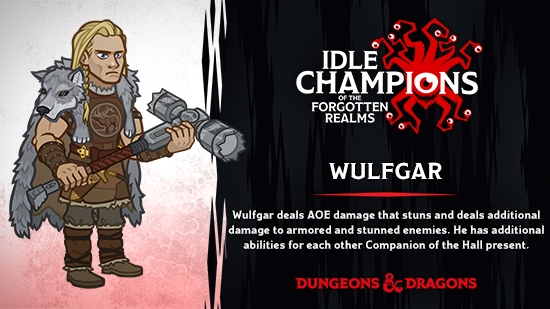 New Champion: Wulfgar
Wulfgar started his life in the north as the flag bearer of the barbarian Tribe of the Elk. He was bested in the assault on Ten-Towns by Bruenor Battlehammer, who decided his punishment would be five years and a day of service. Bruenor grew to love the tall barbarian, eventually seeing him as an adopted son. At the end of his service, Drizzt Do'Urden to taught Wulfgar the ways of combat and Bruenor crafted for him a mighty warhammer, named Aegis-fang. This magical warhammer bears the symbols of three of the Dwarven Gods: Moradin, Clangeddin, and Dumathoin. It is specifically attuned to Wulfgar and magically returns to his hand upon telepathic command.
Wulfgar deals AOE damage that stuns and deals additional damage to armored and stunned enemies. He has additional abilities for each other Companion of the Hall present. When you want to add Wulfgar, Son of Beornegar to your party, you can swap him with Tyril or Barrowin (Slot 10).
For more information about our latest Champion, check out the
Idle Champion Spotlight: Wulfgar
dev blog!

Brightswords Variants
Little Eyes are Lurking — A pair of Quasits have infiltrated your party, taking up two slots in the formation and causing chaos, making it difficult to work as a team. Every 25 areas they switch positions.


Father and Son — Wulfgar and Bruenor have set off alone, on an adventure to catch up after some lost time. Only Bruenor and Wulfgar are available, and both start in your formation. Their damage and cooldowns are dramatically improved.


Lolth's Domain — All Drow have the blessing of Lolth. Enemies gain armor and bosses gain additional armor.

Features:
Added the Brightswords event, our seventeenth limited-time campaign event! The event runs until Monday, September 24th at 12:00pm PDT.
Added a new Champion: Wulfgar, the Human Barbarian.
Added a new event Divine Favor: Tempus' Favor.
See the in-game Change Log for more information!