Welcome, to the introduction to our Idle Champions anniversary celebration! To start, no, it isn't live yet. We felt it was best to give all of our fans advanced notice, so you knew what to expect next week.
Starting on Wednesday September 5th, we're launching our Year 1 anniversary celebration. For 7 days, we'll have daily rewards for you to claim just for logging in!
Every day you can log in and claim an Idle Champions Birthday Chest. There are 7 of them, and each one contains 4 items hand picked by the Codename Entertainment team to help you in your quests. What do they contain? Oh, just Time Gate pieces, Epic Contracts & Potions, and more! Note: You have to be logged in and click the "CLAIM" button to receive your chest each day.
But wait, there's more!
If you claim 4 out of the 7 Birthday Chests during the Anniversary Celebration, you can collect the coveted Anniversary Chest. This epic chest contains 5 gold chests, a free Mimic familiar, and our first variant champion skin: Party-Time Jarlaxle.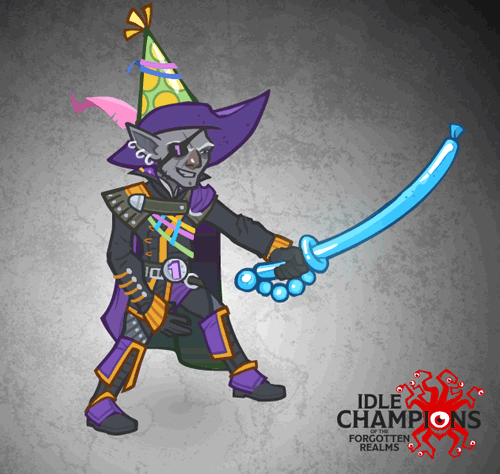 But wait, there's more!
Thanks to the new familiar slots we released last week, we're launching new familiars during the anniversary celebration as well: A Black Cat and a Faerie Dragon will be available as paid DLC, and we'll also be releasing new familiars that are available for gems: Evelyn's very own Armored Juniper, and Minsc's faithful companion Boo!
But wait. there's more!
When the anniversary celebration launches, we'll add a new potion to the drop tables for chests: Potion of Speed. These potions increase the speed of the game for a short time, allowing you to clear those earlier levels faster when attempting to reach your wall!
Phew! There's a lot going on next week, but we still have plenty going on this weekend as well!
It's a Time Gate weekend, so log in and visit Kaylaar who will help you collect and/or gear up past event champions.
Come visit us at the Table Titans booth at PAX!
We also have our ongoing in-game promotion with High Rollers. Complete ANY adventure, variant (like, maybe a few Time Gate Adventures!), or free play and earn points to give the High Rollers crew Idle Champion D6s for them to use on the stream and earn yourself some sweet rewards!
Don't forget to check out the Stinky familiar on PC, iPad, and Android tablet. Proceeds benefit the Take This charity and help fund the AFK Rooms at PAX. Are you playing on PC? Check out our handy link below to buy now!