Celebrations are underway to commemorate the founding of the Free City of Waterdeep. Founders Day attracts huge crowds to the Field of Triumph, where audiences watch illusory shows about Waterdeep's history and martial exhibitions by notable Champions and the renown city guard.
Festivities have also brought an ancient power from
Avernus
, first layer of the Nine Hells. A fallen angel has arrived to collect souls for the
Blood War
...
Founders Day is the fourteenth limited-time event for Idle Champions of the Forgotten Realms, which runs until Tuesday, July 17th at 12:00pm PDT, and introduces Deekin Scalesinger, Kobold Bard!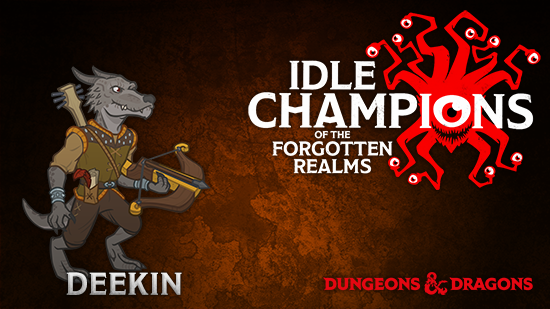 New Champion: Deekin Scalesinger
A former member of the Dripping Fang clan, Deekin was once a Skald for a White Dragon named Tymofarrar. Once he was released from Tymofarrar's service, he set out to become the most amazing storyteller in all of Faerȗn. He yearns to sing and tell stories of heroic deeds, but his songs often devolve into "tales" of the doom that is coming to him or his companions.
When you want to add Deekin to your party, you can swap him with Bruenor.

Founder's Day Variants
Spectator Sport — Three local farmers have joined in on the Founders' Day tussle, and won't take the hint that they should probably take a seat. It might be because they are pretty drunk. They take up a slot in your formation and change positions every 25 areas.


Doom is Coming to Waterdeep — Deekin must sing a song so everyone in Waterdeep knows that doom is coming. I know. We tried talking to him. However, he doesn't know which spot will give him the best acoustics. Deekin is always in your formation and will change positions every 10 areas. Deekin cannot be moved because, well, Deekin is singing a song.


The Blood War — Whenever you kill a demon, devils get stronger and demons get weaker, and vice-versa.

Features:
Added the Founders Day event, our fourteenth limited-time campaign event! The event runs until Tuesday, July 17th at 12:00pm PDT.
Added a new Champion: Deekin Scalesinger, Kobold Bard.
Added a new event Divine Favor: Asmodeus' Favor.
See the in-game Change Log for more information!