The party descends into an infamous crypt filled with the tombs of local heroes to pay homage to their deeds during the
Feast of the Moon
. Unfortunately, the dead are restless, rising from their slumber as undead and gathering deep in the crypt for some unknown nefarious purpose...
Fight your way through the risen heroes of yore as your party descends into the dark depths of
The Crypt of Legends
. Seek out whatever is responsible for this undead uprising, and put an end to it for good!
Idle Champions' latest event,
Feast of the Moon
, is a celebration honoring the deeds of the fallen heroes of Faerûn. This limited-time adventure runs from today until Noon PST on Tuesday, November 28th 2017, and introduces Gromma, the Tortle Druid.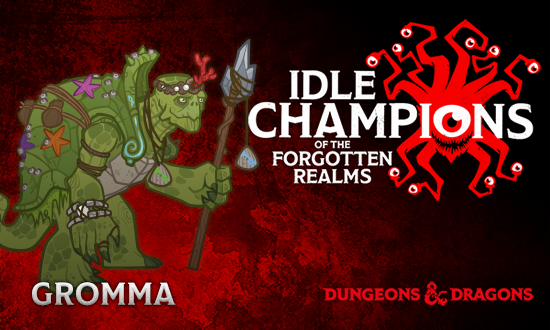 New Champion: Gromma Nander
A wise
Tortle
matriarch, Gromma Nander is an elderly
Circle of the Land
Druid with nearly one hundred grandchildren. She has picked up many skills over her long life, and is able to fulfill DPS, support, or tanking roles in a formation. No matter her specialization, Gromma has a particular grandmotherly fondness for young members of any race, and will empower members of her party, with the youngest receiving the greatest boost.
When you want to add Gromma to your party, you can swap her with Nayeli.

Feast of the Moon Variants
Respectful Restraint — Ultimate Attacks can not be used and any attacks with a cooldown of 5 seconds or less have an additional 3 second cooldown (so a 4 second cooldown becomes 7 seconds, but a 6 second cooldown stays at 6 seconds). These lengthened attacks don't do any additional damage due to their longer cooldown.


The Relentless Undead — Undead monsters have 2x as much health as normal and, when they take a killing blow, they are stunned for 10 seconds before coming back to life (they still drop gold and quest items and count towards the quest each time they are killed).


A Grand Nandventure — Gromma Nander is forced to be in your formation. She starts at level 1 in your formation right away alongside Bruenor. She cannot be removed from the formation or swapped out of her seat. She has a 4x damage boost and her normal attack cooldown is reduced by 2 seconds.

Features:
Added the Feast of the Moon event, our third limited-time campaign event! The event will run until Tuesday, November 28th at noon PST.
Added a new Champion: Gromma, the Tortle Druid.
Added a new event Divine Favor: Jergal's Favor.
Added five new Achievements.
See the in-game FAQ for more information!