The new event can be challenging if it's your first time through. Use these special weekend buffs to power through and unlock those tier 2 objectives!
The following Crusaders will get a buff this weekend starting from today until 12 pm PDT on Monday May 22nd.
Serpent King Draco - Base DPS +400%
Princess - All DPS +200%
Khouri, the Witch Doctor - Koffee Potion ability +200%
Montana James - All Gold Find +200%
Prince Sal, the Merman - Base DPS +400%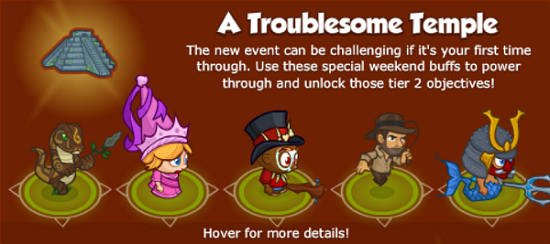 Also, check out the limited-time Premiere Jeweled Chests that contain equipment for the five Crusaders above!
(
Please note:
The chest will only contain gear for Draco and Montana if you've unlocked them. If you are missing Montana, you can purchase Montana's Golden Epic, and it will be available on him once you unlock him through missions.)