Seeking rest and respite from a year of adventure, the Champions arrive in the tranquil town of Longsaddle - only to find it under siege!
Drow from the Underdark are on the hunt in Longsaddle for a Harpell artifact, and it's a race against time to find it before they do...
Brightswords 3 introduces Lazaapz, the Goblin Armorer Artificer, and brings back returning Champions Turiel, the Aasimar Cleric and Wulfgar, Human Barbarian and member of the Companions of the Hall. Players will have until Monday, September 14th, 2020 at 12:00PM PDT, to complete event objectives!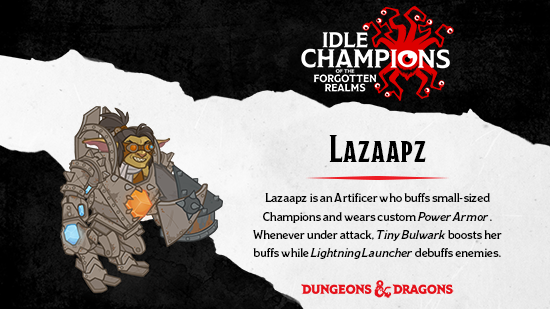 Year Three Champion: Lazaapz
Born in The Cogs beneath Sharn's Lower City, Lazaapz's remarkable intellect elevated her to the Tradefair district, where her mechanical genius became highly sought after by the Dragonmarked Houses. Lazaapz's first invention was a functional mechanical arm to replace the one she was born without; now she leads an elite team of engineers in cutting edge research and development.

Following the discovery of a mysterious Eldritch Machine, Lazaapz was brought in by House Cannith to ascertain the purpose of the device. Shortly after, both Lazaapz and the machine disappeared, never to be seen again.
Lazaapz is a Tank and Support Champion who buffs other small-sized Champions with her
Fury of the Small
ability. She wears a suit of custom mechanized
Power Armor
that powers up her abilities and attacks, granting improved bonuses and additional attacks that debilitate enemies while she is under attack. When you want to add Lazaapz to your formation, you can swap her with Makos (Slot 9).
For more information about our Lazaapz, check out the
Idle Champion Spotlight: Lazaapz
dev blog!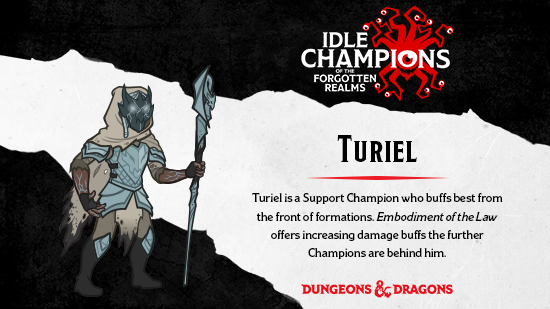 Year Two Champion: Turiel
Wherever the aasimar known as Turiel goes, devils and demons know to tread lightly. Acting on orders of their divine patron, Bahamut, Turiel works tirelessly to bring law, order, and justice to Toril. When not busy with inquisitions or crusades, Turiel calls the endless libraries of Candlekeep their home, studying ancient tomes and seeking guidance for their next holy mission.
Turiel Supports from the front of the formation, with his
Embodiment of the Law
greatly increasing the damage of Champions the further they are behind him. When you want to add Turiel to your formation, you can swap him with Bruenor (Slot 1).
For more information about our Turiel, check out the
Idle Champion Spotlight: Turiel
dev blog!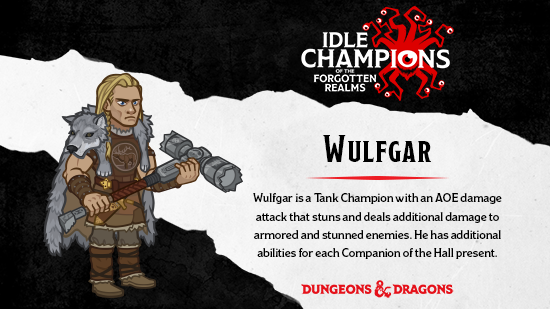 Year One Champion: Wulfgar
Wulfgar started his life in the north as the flag bearer of the barbarian Tribe of the Elk. He was bested in the assault on Ten-Towns by Bruenor Battlehammer, who decided his punishment would be five years and a day of service. Bruenor grew to love the tall barbarian, eventually seeing him as an adopted son. At the end of his service, Drizzt Do'Urden to taught Wulfgar the ways of combat and Bruenor crafted for him a mighty warhammer, named Aegis-fang. This magical warhammer bears the symbols of three of the Dwarven Gods: Moradin, Clangeddin, and Dumathoin. It is specifically attuned to Wulfgar and magically returns to his hand upon telepathic command.
Wulfgar deals AOE damage that stuns and deals additional damage to armored and stunned enemies. He has additional abilities for each other Companion of the Hall present. When you want to add Wulfgar, Son of Beornegar to your party, you can swap him with Tyril (Slot 10).
For more information about about Wulfgar, check out his
Idle Champion Spotlight: Wulfgar
dev blog!

Year Three Variants
Lolth's Army — Drow Fighters attempt to stop us from thwarting their plan. Whenever you kill any drow enemy, Lolth grows angry and tracks your transgressions. For each drow killed during this adventure, the damage and movement speed of each drow enemy goes up by 0.1% (Additively)
Reach area 75.


I Got This...? — Only Champions with INT 14 or lower can be used can be used.
Reach area 125.


Short Force Leader — A roving band of Ogres have joined the adventure! Let's show 'em what Lazaapz and her crew can do! Lazaapz starts in the formation. She cannot be moved. Champions in the two columns behind Lazaapz count as a small race for the purposes of Lazaapz' Fury of the Small. Everyone's smaller than an ogre, right?!
Reach area 175.

Year Two Variants
Hearty Constitution — Only Champions with a Constitution (CON) score of 14 or higher can be used.
Reach area 75.


Army of Bahamut — Turiel starts out in slot 1 and can't be moved or replaced. Only Lawful or Good Champions can be used.
Reach area 125.


DPS's Day Off — No Champions with the DPS role can be used.
Reach area 175.

Year One Variants
Little Eyes are Lurking — A pair of Quasits have infiltrated your party, taking up two slots in the formation and causing chaos, making it difficult to work as a team. Every 25 areas they switch positions.
Reach area 75.


Father and Son — Wulfgar and Bruenor have set off alone, on an adventure to catch up after some lost time. Only Bruenor and Wulfgar are available, and both start in your formation. Their damage and cooldowns are dramatically improved.
Reach area 125.


Lolth's Domain — All Drow have the blessing of Lolth. Enemies gain armor and bosses gain additional armor.
Reach area 175.
See the in-game FAQ for more information!